1991 Honda CBR600F2 Supersport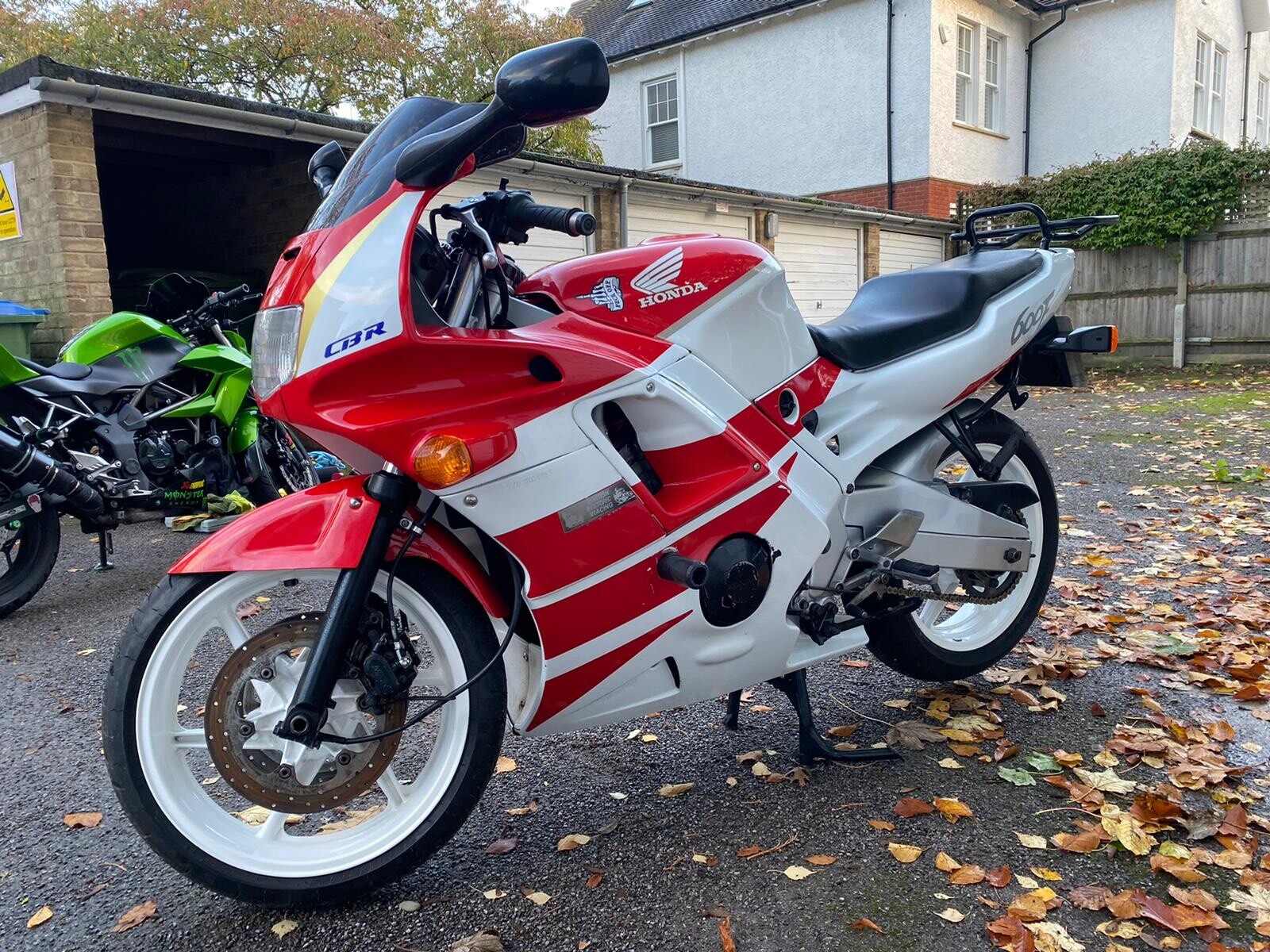 1991 Honda CBR600F2 Supersport
Here is my sons 1991 (H) CBR600 F2. MOT due 23/09/23. Recently purchased by him to restrict and ride on his A2 License, only to find out its the 100bhp model and his license won't allow him to restrict and ride 🙁 I wasn't aware of him buying this before anyone asks!
It was purchased having been worked on during the recent Covid pandemic/lockdown by its previous owner.. the project included the bike being stripped down and the frame re-painted in original Honda colour. The wheels re-powder coated too. We have had the bike checked over by our bike mechanic to make sure its 'safe', as a parent I'm sure most of you will know what I mean..and he's professionally set up the bike balanced the carbs, which included new intake rubbers and carb rebuild kits (at a cost of £472) so she is running perfectly.
Currently Sorn. Clocks read 68k mls, engine been de-coked and some parts/bearings replaced at the same time, some of which can been seen in the photos…engine still needs some more miles covering until she's run in.….the new Black widow exhaust makes for a nice sound too.
*Engine covered approx 250 miles since the rebuild*
Lots of receipts, plus bike is garaged & a new battery just fitted 10/01/23..
Project works included following new parts but not definitive as stated on receipts:
New Motul fork oil, spark plugs, front & rear wheel bearings & brake calliper service kit, carb service kits & rubbers, exhaust studs, brake pads, castrol power engine oil/filter, brembo brake fluid, main wiring loom harness, throttle cable, crankcase barrels and pistons, rear hangers and footpegs, front and rear chrome brake hoses, stainless fairing bolts and clips, oil pump/drive gears and train, crankshaft bearings, New Black widow exhaust fitted June 2021..
Not sure what else to say other than if you were to pay to get this done or do this kind of work yourself then I think you know the cost & time involved. The Pictures say a thousand words so look carefully as the bike is not 100% perfect…it needs a few decals and a few other minor cosmetic bits if you want it pristine. If you were to do those cosmetic bits it would be a stunning example of this classic bike… it was my sons plan to do this but as he can't ride it for a while he's no option but to sell it.
PS I'm constantly adding info as it comes to light so will add more info as and when I come across it.