1991 Honda Goldwing GL1500se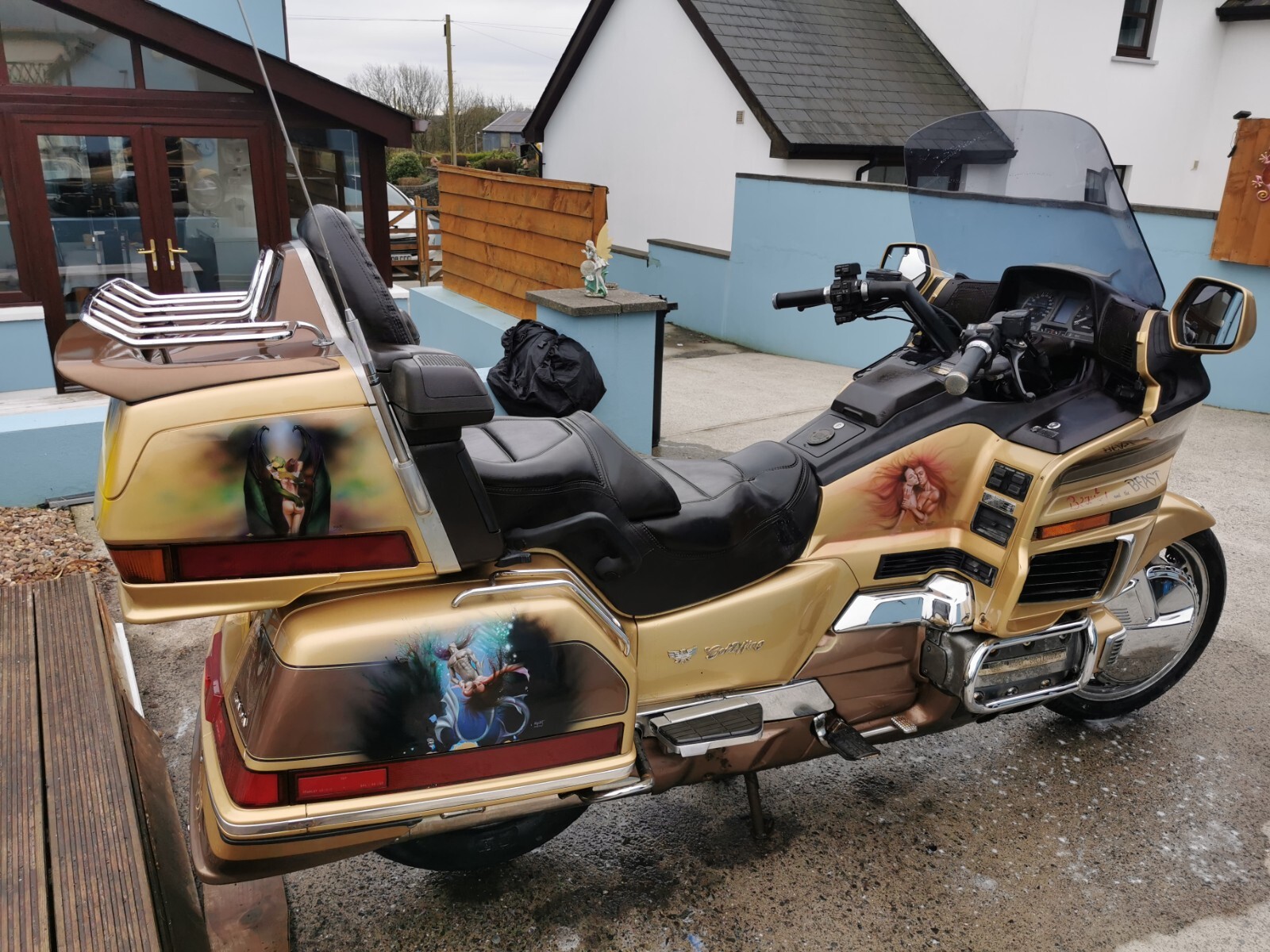 1991 Honda Goldwing GL1500se
Private plate not included.
This Honda Goldwing GL1500se Anniversary edition registered 01/08/1991.
This bike has been known to me since new, and has been owned by several of my close friends.
The bike was purchased by a friend from MandP Swansea who I believe was the owner or one of the managers.
My friend then had the artwork and bodywork airbrushed by splat to the theme of beauty and the beast.
This bike won best Goldwing at the Shepton Mallet Treffen. It was then featured in the wingspan. Sometime after my friend offered it to me, but unfortunately I wasn't in a financial position to purchase her.
Several years later another friend purchased her and then currently sold it to the friend I have recently purchased her from. About 8 years ago the bike had the 4th gear selector gearbox issue. It was decided the best way forward was to purchase a low mileage unit from the 97 on model knowing that the gearbox was modified to avoid any further worries. At the time a new SS motad system was purchased and fitted, new cambelts, service etc. The bike ran well but had a small water leak from one of the multiple pipes. My friend took it of the rode with the intention of getting the leak sorted. He started a business then became unwell, so kept putting off sorting the wing. Unfortunately the years passed and the bike became left like a barn find.
I was offered another bike that had been standing for 4 years and the bodywork looked poor but this one started. I asked my friend if he was willing to sell me his bike to transfer his bodywork over and SS system over. He agreed.
Anyhow I have cleaned the other bike up and have found with a deep clean and detailing it come up like new! So my original plan has meant this bike is now surplus to requirements. I have cleaned it up and the bodywork looks pretty nice, not 100% due to a small amount of laquer lift as seen in pictures but pretty impressive talking point. The SS motad system is still in excellent condition as to be expected. I started to go through things but have realised with 2 other 1500s 3 in total and my gl1800 gen2 I have over committed myself. The bike in my eyes is too good to not fully restore or trike. I have added jump leads and have had her turn over. I would like to hear her running before selling and convinced it should be possible but currently she is a non runner. She will need a swing arm and centre stand as expected. If I wasn't over committed I would but…
Alternative if your old wing is running well but looking tired as my original idea you could transfer everything over.
I understand that it would make more in breaking her but really would sooner see her back on the road if not all of the bike but in spirit with the bodywork. Please feel free to view. Bike in Pembrokeshire.
Please be aware this is in need of a restoration and will need to be trailered away.