1996 Honda VFR750 RC36
View on eBay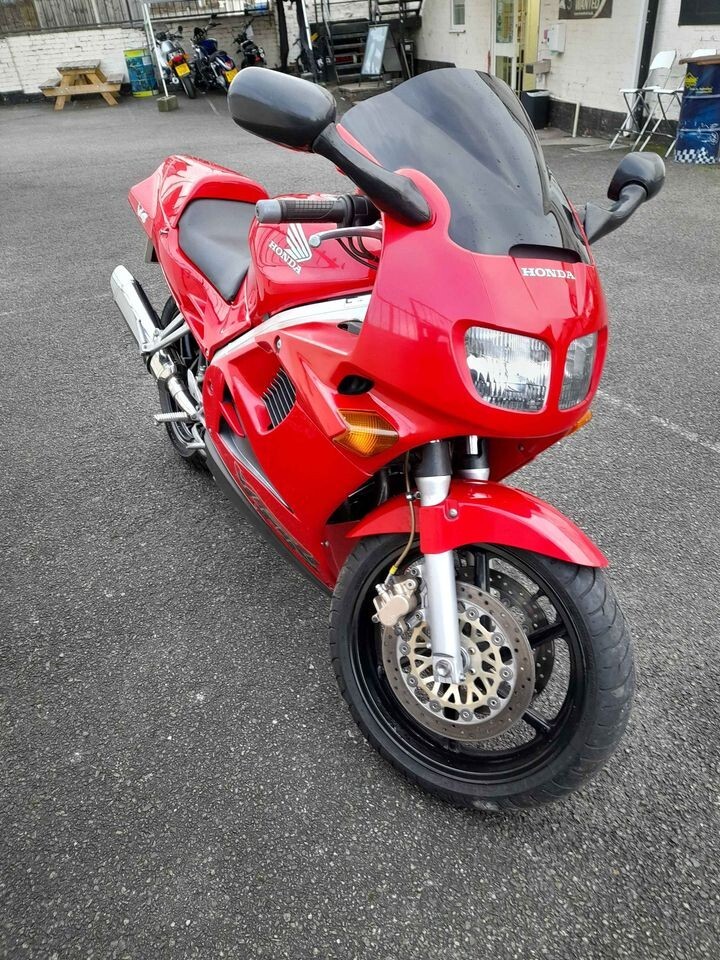 This 1996 Honda VFR750F is rated by MCN as the best bike of the '90s and is considered the best used bike ever in terms of value for money. It is a fantastic all-rounder and is going up in value every year.
The bike has had over £1,300 and 90 hours spent on it, making it a real pleasure to ride, own, and look at. It has an MOT until November with no advisories. The bike has new/restored parts too numerous to mention, including new tyres, rebuilt forks, serviced engine with new filters, oils, spark plugs, and fluids, new battery, serviced swing-arm, new brake pads and brake fluid, new chain and sprockets, new rear number plate, most bulbs replaced, new head bearings, and the exhaust removed, cleaned, and polished.
This classic 1990s icon has technology like gear-driven cams and a single-sided swing-arm that were special at the time and still are. The bike is easy to ride, has famous Honda reliability, and enough power (100 bhp) to be more than fast enough. It is the perfect mix of sporty and touring.
£1,100 of useful extras include Oxford heated grips, tinted 'double bubble' screen, rear hugger, and a Motad exhaust system with a titanium end can, which is a little louder than stock but still fairly quiet with a lovely V4 growl. You also get the famous gear-driven whine.
This bike is an absolute steal at £2,500, and a similar bike would cost £18,000 new today. These bikes will be worth £10,000 in the future, especially considering that much inferior CB750s are selling for up to £20,000 and badly made 70s mopeds are fetching £8,000 and more. Buy now while prices are artificially low.
Unfortunately, I'm selling this bike reluctantly due to a bad shoulder injury as it is too heavy for me. It has some scratches as expected for a 27-year-old bike, but it sounds great and runs, handles, and stops superbly well.
A close offer might be acceptable.
eBay item number: 155457018759
Listing expires: 18-04-2023