1996 Triumph Trophy 1200 T300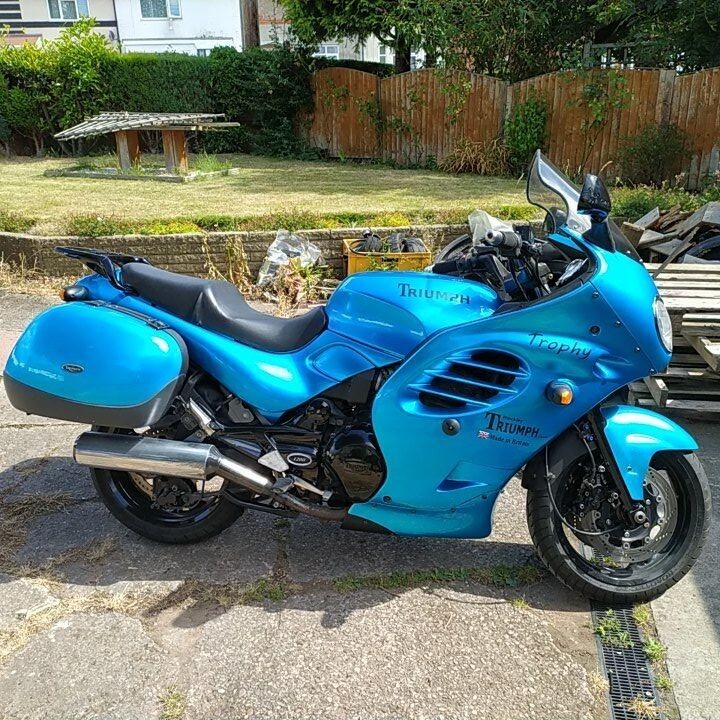 1996 Triumph Trophy 1200 T300
Selling my 1996 Triumph Trophy 1200 because I prefer my V-strom 1000 over it. And no point having two big bikes when one will suffice.
what it's had:
New tyres, valves
Powdercoated wheels
All calipers stripped, new seals, new HH sintered pads, repainted, new brake fluids
New clutch fluid
Fork seals and oil
Engine oil and filter
New plugs
New coolant
Air filter washed
Carbs stripped and ultrasonic cleaned (could do with the balance checking again)
Engine covers stripped and painted
Electrical sins corrected behind the headlight, new high beam relay
Twin usb power socket fitted in the glovebox (goes off with the ignition)
Ram mount ball fitted behind the screen for satnav
New screen bolts
Full new respray in Candy Turquoise and new decals.
I recovered the seat with some material I had lying around due to it being rotton and I could push my finger through it.
New front and rear sprockets, 40 tooth rear and 19 tooth front.
New bar grips and grip puppies
Rear rack painted
It could do with a new fuel tap if you're fussy.
There is a small standoff inside the tap that switches it from the main tank to reserve. This little thing is broken off so won't turn the innards.
I have set it (inside) so that it is running in the reserve position, so you can either change the tap or keep an eye on the fuel gauge, up to you. Personally, I prefer the looking at the fuel gauge option. If it hits the red, fill her up again.
Basically it's been bought up to scratch again as it had been sat for over 3 years and was looking rather sad for itself.
It is MOT'd until May 2023
I have the V5 in my name.
It's now showing just over 44K miles on it
With the new sprockets, it now revs at 4000rpm at 70mph, which I think is where a 1200 engine should be at that speed.
Consequently, with the lower rpm's, the fuel consumption has gone up considerably over the stock sprockets and figures.
On this weekend trip it was returning around 53mpg
For your calculations:
134.3 miles, 11.45 litres filled.
11.45 litres = 2.52 gallons
134.3 (miles) divided by 2.52 (gallons) = 53.29mpg
Very nice if I say so myself.
It performed over a weekend away very well indeed, plenty of twisties, straights, hard acceleration, all handled well.
There is a slight vibe through the grips around the 50 – 60 mph mark, and there is heat blast off the engine when you slow down and stop at islands/junctions etc, typical of a big engined bike really.
As I already said, the carb balance could do with being checked again.
I also missed a spot when I painted it. God knows how, but I missed it twice. Picture 4, On the front fairing, above the left front indicator. Nothing major, but I'll mention it just so you know it's there. Can easily be covered with a union jack sticker (both sides so it balances)
Apart from that it goes great, and if I didn't have my V-Strom I'd probably keep it, but I do, so here it is for sale.
Bike is located in North Birmingham, not far from Junc 7 of the M6
Questions are welcome
Viewing is welcome. Message through here or call the number at the bottom.
Phone is on from 10am until 6pm.
Cash or Bank Transfer only please, sorry NO PAYPAL
I do accept card payments provided the card holder is present at the time.
Collection only please
No Returns
UK only
If I remember anything else I'll update the ad
Thanks for looking