1996 Yamaha YZF1000 Thunderace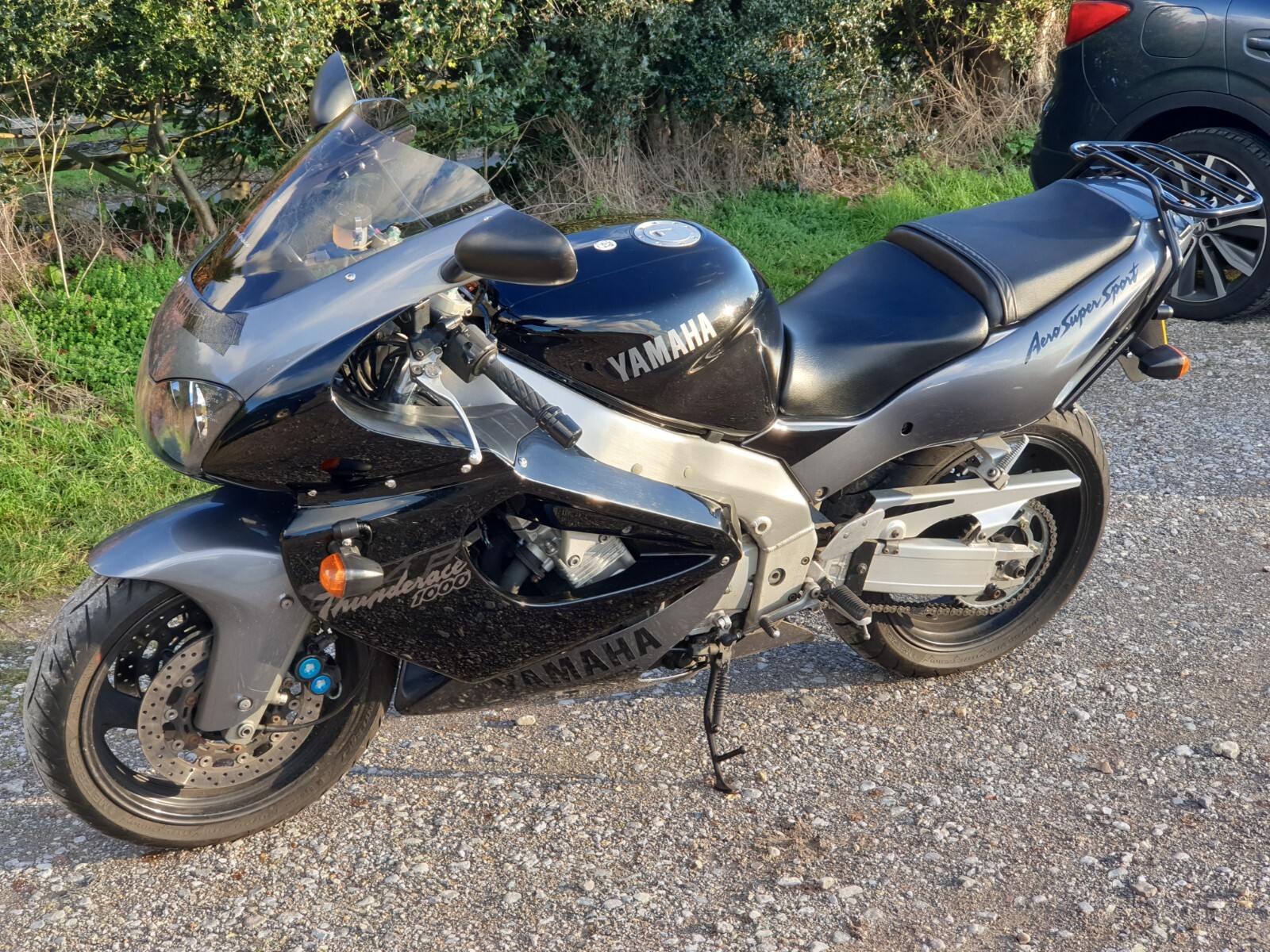 1996 Yamaha YZF1000 Thunderace

The 1000cc Thunderace is the father of the famous R1. It's a powerful sports tourer, a wheelie monster if you can control wheelies and it's 140hp will propel you to wherever you want to go as fast as you need. It may be 26 years old but it's still a force to be reckoned with, and nowadays it's affordable.
[Edited to add the MOT date.] She's got a full MOT of course, it currently expires on the 10th of August 2023. No advisories.
THIS Ace is my third one, I love them. I'm only selling because I 'accidentally' bought a bigger bike and I can only afford to ride, insure and tax one. (I bought a shiny 2011 Kawasaki ZZR1400!) I like to be safe on my bikes so when I bought the Ace I gave it a thorough service. Yes, I do my own, and I am very capable.
Here is a link to my album showing what I've done since I owned it. It's a lot and you will get it all.
https://photos.app.goo.gl/PEvUZKfa8DyJ2N4q9
Not knowing how long since it had been looked at properly I changed ALL fluids (except the fork oil. I planned on getting to that but didn't.)
Coolant,
Engine oil,
Brake fluid, front and rear,
Clutch fluid.
I changed every filter,
Oil filter,
Air filter,
Fuel filter.
The brake pads were all changed.
New battery fitted.
Carbs balanced and idle set.
I fitted a motorcycle dash cam with front and rear cameras. It's a DV 988 and gives some good footage. Hopefully no one will ever SMIDY you but now there is evidence if needed.
To power the camera I soldered a 12v switched aux wire into the loom. I added three 2pin sockets. One is for the camera, one I used to power a USB charger so I / you can keep your phone charged or power a light in a tent, whatever. And a third socket is spare. Should be standard in my opinion.
The ignition lock was a bit 'dodgy' so I got a replacement set. However the set didn't fit the seat lock so there are two keys, one for the ignition and fuel cap, and the original one for the seat lock.
I fitted a Powerbronze bubble screen too. The original screen is available still.
Mostly for the grab rail I fitted a Rentek rear rack too. Handy for the odd box though.
The fairing bolts were very faded and messed up so I replaced them with a set from eBay. More about that later.
I noted that the brakes, front and rear, were binding a little so I bought replacement seal kits. It sailed through it's MOT when the time came.
In July I noted a puddle of fuel under the bike. It seems that one of the needle valves in the carbs was sticking so I took the carbs out and gave them a deep clean in my ultrasonic parts washer. They're great tools. New seal kits, new needle valves and seats, and pilot jets. Rebuilt and rebalanced. Nice.
But that made me realise the throttle cables were worn, so I replaced those.
A new chain and both sprockets were next and new tyres. The original tyres still had tread on them but they were made back in 2011 and the rubber was drying and not good. Now she rides on new Metzler Roadtec's. I've only done about 800 miles on these new tyres.
What else? New LED light bulbs in the instrument cluster. Brighter and hopefully won't blow like the old ones did. New speedo drive clutch and wheel seal as the tyre fitters didn't seat it properly and it failed.
And, lastly, the seized brake callipers have been refurbished. Removed, stripped, ultrasonically cleaned, pistons polished, bores polished and seal grooves cleaned. New seals, fluid and rebuilt. They're like new and no longer bind. I kept the pads, they still have lots of life left.
Of course, it's 26 years old so it's imperfect. Scratches on the fairings of course. But the worst is in the pictures, the top cowling cracked under one of the replacement screws on a journey to London and back. I've covered it with a bit of duct tape. Also, the joint on the left side between the cowling and the left side panel did the same, there is one of the 3 screws no longer holding.
You can see from the pictures that is shines up well. It goes well, gives mid 40's per gallon. I ran it until it used ALL the fuel once just to see how far it will go and reached 190 miles for a full tank
I'll happily answer any more questions. The price is firm, you can see it's worth it. And yes, there are lower mileage bikes out there of course, and newer, but have they got old tyres, chains, filters, fluids, brakes? My Ace is fully sorted, ready to go. Are you?