1998 Custom Suzuki 1200 GSF Bandit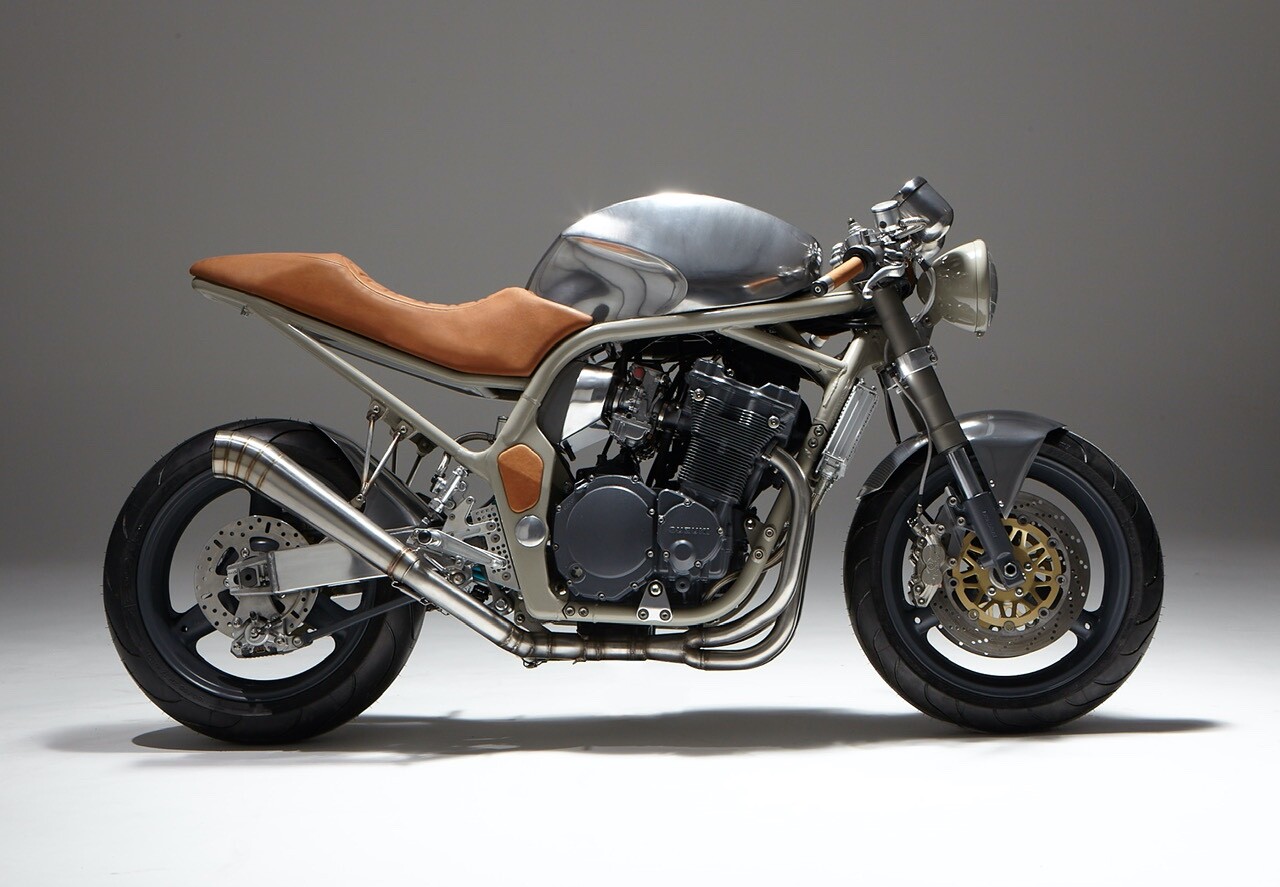 1998 Custom Suzuki 1200 GSF Bandit
A Cafe Racer inspired Suzuki Bandit 1200. This build was created by the London based custom bike workshop of Moto Milo.
It features a number of hand fabricated and TIG welded aluminium parts, and includes a new rear shock and new Mikuni Carburettors.
All bolts have been replaced with high grade SS items.
The motorcycle now has a fabricated aluminium number plate mount integrating the brake/tail light and indicators,
not shown in the list photos.
Unfortunately tests rides are not available, however viewings are welcome, and an observation of the bike being ridden can be accommodated , (weather permitting).
Build Specifications:
The aluminium hand fabricated parts (using an English Wheel) include the:-
-Fuel tank,
-Air box (two parts),
-Front and rear mudguard(including chain -guard),
-Battery and wiring loom compartment, which runs in a channel under the fuel tank,
-Front radiator mounts,
-Speedo and Rev counter housing,
-Instrument cover and housing,
-Rear Swingarm pivot covers,
-Rearsets mounting plates,
-Undertray,
-Front headlight mount,
-Number plate mount with integrated tail light and indicators.
Rear subframe is hand fabricated and welded.
Front caliper mounts were fabricated using CNC.
Front fork leg uppers, and front brembo calipers were Cerokoted.
Engine and wheels powder coated.
Frame painted
Hand fabricated stainless steel parts include
– Exhaust system, starting from where the down pipes join into one, and
-Exhaust Hangers
Italian tan leather used for the,
-Seat Unit,
-Handle bar grips,
-Frame Inserts
and
-Instrument cables sleeve.
Additional new parts include,
-Nitron NTR R1 rear shock
-Mikuni RS36 Carburettors
-Goodridge Hoses for front and rear brakes, and Clutch.
-Domino XM2 quick action throttle
-Messnermoto Aluminium Control switches
-SES Rearsets
-Nissin brake master cylinder
-Nissin clutch master cylinder
-Rizoma front and rear brake reservoirs
-Rizoma clutch reservoir
-R&G bar ends
Listing expires: 07-02-2023